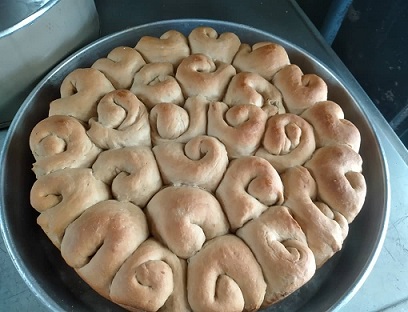 Milo is a popular chocolate beverage drink most people take, it's usually served hot, cold, or warm but most fans of this chocolate beverage powder would always want to lick it especially the children.
I'm only sharing some facts regarding this favorite household beverage that comes in powder form or liquid form.
Also Read >>>>.>>>> Sweet White Bread – Nigerian Round Bread Recipe
However, Milo bread roll are perfect for Milo fans that grew up with it, love it, and still desire it. Milo milk bread is a chocolate bread rolls that is very tasty and delicious.
Homemade Milo bread recipe is so easy to make and equally served with Milo hot chocolate Tea for breakfast. Similarly there are other recipes you can make with Milo such as Milo cake, Milo Banana muffins, Milo Banana bread, and the Milo bread mighty white.
How to Make Milo Bread Recipe
Ingredients
750g All-purpose Flour
1/2 cup Sugar
2 ½ teaspoon Yeast
1 Egg
100g Milk flavor
Salt a pinch
100g Butter
1 teaspoon Vanilla Flavor
½ cup of Milo powder
1 ½ cup of Water
Method of Preparation
First and foremost, sieve flour into a bowl; add all dry ingredients starting from the sugar, yeast, milk flavor, salt, and Milo powder.
Secondly, mix all dry together, thereafter, add your butter, egg and flavor, and mix thoroughly until well blended into smooth powder.
Thirdly, Make a hole at the center of the flour mixture and add water, mix until is no longer sticky in your hands.
Next step is to place the dough on your working table and knead for about 10 minutes, place the dough in a bowl and cover for 1 hour.
After an hour it will double in size, knead the dough again for 3 minutes and mould to desired shape. Allow for another 1 hour to rise.
Finally, Pre heat oven at 180c and bake for 30 minutes, and then remove from oven, allow cooling for like 5 minutes.
Delicious Bread made with Milo powder is ready to eat.
Serve and enjoy with a cup of hot chocolate or soft drink!