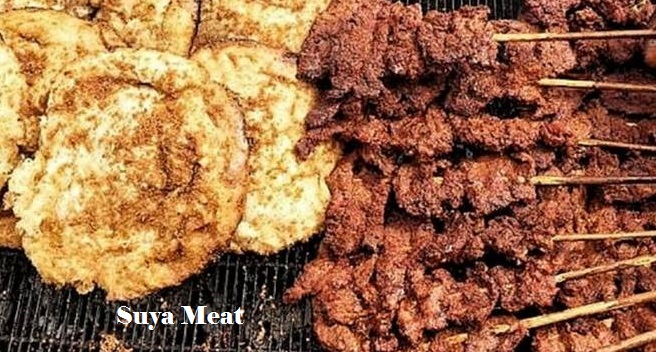 Suya is a popular Nigerian skewered roasted beef, the aroma coming out of this meat can be so tempting except your pocket is empty that is the only way you can survive Mai suya joint.
Suya is mostly prepared by the Hausa people from the Northern part of Nigeria, though it has gain popularity in every state of the Nation.
Wallah! Growing up in the North was found, we also look forward to our usual evening snacks from Mallam Musa who sells at the junction of my street when my Dad is coming home from work.
Also Read: https://besthomediet.com/corn-pancake-traditional-food-masa-waina/
Lover of this charcoal grill meat will not do without stopping over at a nearby suya joint to pay homage; it is cheap and quite affordable, tasty and delicious recipe to chew with a favorite side dish or drink to step down.
Basically, there are different types of suya meat, such as beef, cow liver, Ram, Chicken, gizzard, and kidney.
Homemade suya is very easy to make, moreover, suya without suya spice is no suya at all and this pepper spice is what actually qualifies this roasted beef.
Meanwhile, Mallam, (Mai Nama), suya vendors take time to prepare their pepper spice which is traditionally called Yaji, kuli kuli is the major and unique ingredient for making Yaji pepper. Most importantly, it is from Yaji that this charcoal grill beef derives their super taste.
How to make Nigerian suya
Ingredients
1 kg Beef
Suya spice
Vegetable oil (for brushing the meat)
2 Seasoning cubes
Salt to taste
Skewers (wooden or metal)
Brush
Tips before making
Suya spice is sold in the market or big shops and malls, but for those who are outside Nigeria; check it out in Nigerian food shops or African shop within your domain.
If you are using iron skewers wash and grease with vegetable oil.
Similarly, for those using wooden skewers (sticks) gently soak in warm water for about 1-hour pending when ready for use.
Method of Preparation
First of all, slice the beef into thin strips/fillets, or you freeze the meat for like 1-hour thereafter, use a very sharp knife and thin slice the meat.
Remove the skewers from soaked water rinse and dry, gently insert the thin slice meat through the sticks, ensure the meat didn't cover the tips of the skewers.
Get a bowl; crush the seasoning cubes add a little salt and your vegetable oil then mix thoroughly, after that, deep your brush into the mixture and grease the skewered meat on both sides.
In a saucepan, pour out the suya spice and carefully coat the suya meat with the Yaji pepper spice, ensure every part of the meat is covered with the Yaji spice.
Place all the spice meat in a flat plate or tray pan and cover with a nylon wrap or foil paper, allow marinating for about 1hour 30 minutes.
Preheat your oven grill or heat up your charcoal pot whichever that suits your best, transfer the spiced meat into the grill rack and place properly for a perfect grill.
Grill for 10 minutes, brush out with the oil mixture and continue for another 10 minutes, at this point flip to the other side and repeat the same process
Finally, when the meat is well cooked and tender, remove from grill and cover with foil paper or sever either with the sticks or removed from sticks and cut into a tiny piece in a plate and sprinkle Yaji pepper spices on it.
Serve with slices of tomato, onion or waina/Masa rice pancake.