Oha Soup – Igbo Soups | How to Make Oha Soup Recipe
Igbo soup our Oha soup with roast beef popularly called Ofe Ora (Anu-okpo) reminds me of staying with my grandma in the Eastern part of Nigeria, it's her favorite soup. She prepares this soup every week and it last for only 2 days, even when fresh Oha leaf is not in season at this point the leaf is expensive. Grandma will buy this leaf not minding the cost and she doesn't refrigerate her soup for a long period of time.
Oha soup with roast beef is one of the traditional soups in Igbo land which our elders like to eat with fufu (Akpu), garri or wheat. It is a soup you must find during any festival like the new yam, Masquerade, Christmas, Easter and New Year. Oha soup is a very delicious soup if properly cooked, using cocoyam paste as thickener.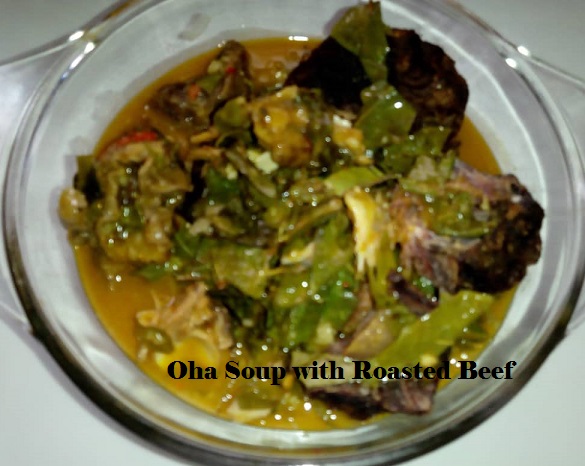 Nigerian delicacies are not complete when Oha soup is not being mentioned, this traditional Nigerian food is referred to as Igbo food and every Igbo person love this soup.   
Oha Soup Roast beef Recipes and Procedures
1Kg Roast Beef
1 medium size stockfish head
2 medium size dry fish
10 – 15 medium size cocoyam (Ede)
1 Big bunch oha leaves,
¼ bunch uziza leaf
1 Tablespoons uziza seeds,
200ml palm oil (Red oil)
1 milk cup crayfish
Fresh Pepper(as desired)
3 Seasoning cubes
2 medium Ogiri (Traditional ingredient)
Salt to taste.
Instructions on How to Make Oha Soup
Wash cocoyam in running water, put in a pot and cook to be soft. Then peel off the back and pound using your mortar and pestle until soft and gummy.
Wash the crayfish, fresh pepper and uziza seed and pound all together
Pluck the Oha leave off the stem and shred using your finger (cut with your Finger) then wash and sleeve also Wash the uziza leaves and slice.
Wash the roast beef into a pot add seasonings and boil for about 10 minutes before adding your already washed dry fish and stockfish cook for 3 minutes.
Ensure moderate quantity of water so that the soup will not be too watery at this point, add the cocoyam paste, palm oil, crayfish, pepper, ogiri, seasoning cubes and salt to taste allow to cook for another 5 minutes.
All ingredients will blend with the palm oil while the cocoyam has dissolve and the soup is slightly thick, finally add your uziza and Oha leave stir and remove from fire.
Oha soup with roast beef is ready to eat serve and enjoy your meal!