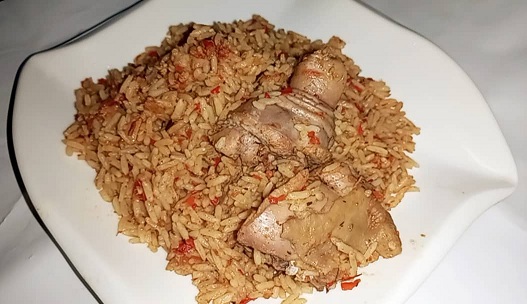 Pepper Rice Recipe – How to Make Smokey Pepper Jollof Rice | Chicken Pepper Rice |Nigerian Pepper rice
If you've never eaten smokey pepper rice before, you're in for a treat. This dish is so good, you might want to repeat it every time when the weather calls for it!
Now is the moment to relive if you're feeling nostalgic. Perhaps you grew up in Nigeria, you've probably had smokey pepper rice before.
However, this dish is also very healthy because it is cooked with natural ingredients and cholesterol-free friendly oils. The combination of spices is pretty fantastic, too.
Moreover, you don't have to travel out of your house to find amazing food and enjoy delicious meals. In fact sites like besthomediet.com, which is dedicated to helping users find the best homemade foods from all over the world is always there for you.
There are different types of pepper rice such as black pepper rice, pepper rice Japanese, pepper rice Indian; Nigerian pepper rice and you can equally enjoy this food in some nice restaurants.
Let us know what you think by leaving a comment at the end of this article. Enjoy!
What is Pepper Rice?
Smokey pepper Jollof rice is sweet with a little bit of spice and lots of flavor though peppery like the name implies. In fact, the spices used in this recipe help to fight off bacteria.
Nigeria Pepper rice or pepper Jollof rice is a hearty and delicious one-pot meal from West Africa. Cooked with rice, tomatoes, onions, Scotch bonnet, salt, and other spices are commonly used to make this dish from scratch.
Does pepper have any health benefits?
Peppers are a multipurpose vegetable that provides a plethora of health benefits. They are low in calories and high in nutrients. Folic acid and fiber, Vitamins A and C, and potassium are also abundant in all types of pepper. Meanwhile, spicy foods add flavor to boring foods, making them more enjoyable.
Antioxidants are abundant.
It has the potential to decrease cholesterol levels.
Controlling blood sugar levels may be easier.
It's anti-inflammatory in nature.
It could be beneficial to your brain.
Has anti-cancer qualities
Is pepper beneficial to the liver?
Chili peppers may help to protect the liver from damage and deterioration. According to new research, consuming capsaicin, the main ingredient in chili peppers, on a regular basis can reduce the risk of liver damage. Meanwhile,  moderation is the key to good health don't eat in excess.
How to Make Smokey Pepper Rice Recipe
Ingredients
4 medium-size fresh tomatoes
1 medium onion sliced
1 Tbsp Ginger & garlic
2 bay leaves
1/2 cup scotches bonnet pepper
Curry Powder & Thyme
Onga Seasoning
1/4 tsp black pepper
Salt or add to taste
2 Knorr seasoning cubes
1/4 tbsp cinnamon powder
3 Cups Rice
1kg chicken
Vegetable oil
Instructions on How to Make Nigerian Pepper Rice
First and foremost, wash and spice the chicken with curry, thyme, onions, seasoning cube, and salt. Add water and cook until softened, then set aside.
Secondly, wash and parboil your rice, rinse and keep on the sieve.
Thirdly, wash your fresh tomatoes, onions, pepper, garlic, ginger and roughly (coarse) blend. In a pot bring the vegetable oil to heat; stir in the blended tomato and pepper and continue frying until the consistent is dry and starts sticking to the pot.
Fourthly, add in the chicken stock, curry, thyme, crayfish, cinnamon, black pepper, seasoning cubes, Onga stew spice, salt, and little quantity of water.
Finally, allow boiling after that, pour in the rice stir to mix with the tomato stew, taste for salt, and place the chicken at the top cover and cook until water is completely dry and slightly burnt at the bottom of the pot.
At this point remove from heat, turn the rice to mix properly, then dish out your food and serve.
Serve and enjoy delicious Pepper rice!