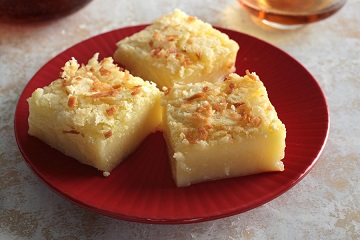 Rice cake is a popular Chinese / Korean dessert made with Rice, sugar, salt, and a few other ingredients; when compared with other snacks that usually have a large list of ingredients.
There are two things you wouldn't like in rice cakes for its dryness and hardness but rather a moist, soft, and gluten-free; low calories snack for a good start.
Moreover, you can be addicted to this homemade rice cake recipe because it's delicious, and easy to make recipe. Asian Rice cakes prepared at home are far better than its counterpart store bought; since you can adjust ingredients to taste and make it healthier especially for those on weight loss plan.
Puffed rice cakes with extra toppings with a crispy rice cake that taste nice can be so addictive
Are Rice Cakes Healthy?
Basically, a whole-grain plain brown rice is a bit healthier, in other to moderate this effect, rice cakes are best paired with fiber and protein. Most importantly, rice cakes are actually low in calorie content which contains approximately 11 grams of carb per rice cake.
How to Make Rice Cake Recipe
Ingredients
1 pound sweet rice flour
1 tablespoon baking soda
3 large eggs
2 tablespoons sweetened coconut flakes (toasted)
1 cup of sugar
1 tablespoon coconut extract or vanilla
3 cups whole milk or coconut milk
3 tablespoons melted unsalted butter
½ teaspoon salt
Instruction How to Make Rice Cake
First and foremost, in a deep bowl, whisk eggs, coconut milk, extract, and melted butter to properly combine. In separate bowl mix rice flour, salt, and sugar, thereafter, combine the dry and wet ingredient together to form a batter.
Secondly, transfer the batter mixture into a greased baking pan ready to bake.
Thirdly, heat oven and bake at 350 F or 180 C for about 50-55 minutes, until the color is slightly golden. Use a knife and dip to ascertain if it's still sticky else increase the time.
Finally, sprinkle the toasted sweetened coconut flakes on the cake reduce the heat and allow baking for another 5 minutes. Then remove from oven and allow cooling before it will be served.
Preferably let is return to room temperature, so that you will enjoy it when eating.
Serve and eat Vegan Nian Gao, sticky rice cakes, Glutinous Rice Cake, Chinese New Year rice cake, and Tteokbokki.