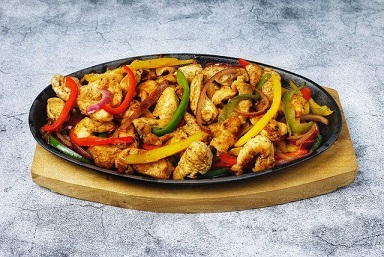 Steak fajitas is a complete dish all by itself, but can also be served as a side dish on Mexican rice, Nigerian party Joloff rice or serve with guacamole(Avocado) and sour cream.
Steak fajitas recipe is basically beef or chicken grilled, BBQ, or cooked on stovetop with bell peppers, it is usually colorful with great flavor and very delicious a popular Mexican cuisine.
Moreover, a healthy Mexican beef fajitas recipe is very easy to cook, all that is required is a well-marinated skirt steak or flank steak with seasoning and other ingredient is what it takes to grill or cook this dish.
How to Make Steak Fajitas Recipe
Ingredients
1 kg of beef (beef skirt or flank steak) cut into thin strips
1 Red bell pepper
2 tablespoons vegetable oil
1 Green bell pepper
1 Yellow bell pepper
2 clove of garlic finely chopped (optional)
1 large onion
1 teaspoon cumin
2 teaspoons Lee Kum Kee Hoisin Sauce or bbq sauce
1 seasoning cube
Method of Preparation
First and foremost, wash all vegetables and cut into thin strips including the onions and set aside for later use.
Secondly, wash your beef and allow to drain in a sieve, in a deep bowl mix your Lee kee Hoisin sauce or bbq sauce with cumin and seasoning cube ( if its bbq sauce you will need to add a little salt) and mix together.
Thirdly, marinate beef with the mixture and allow to sit for like 1 hour or more, it can as well be done overnight as your refrigerate.
in a skillet pan or pot bring oil to heat, stir in your garlic and stir fry for few minutes before adding onions and bell peppers, stir constantly for 3-5 minutes and remove from heat thereafter, keep aside.
The next step is to stir fry the beef until it becomes brown on both sides, after that, add little water and cook to tender.
Finally, pour in the vegetables and mix properly before removing from heat.
Serve and enjoy with Rice recipe or tortillas.