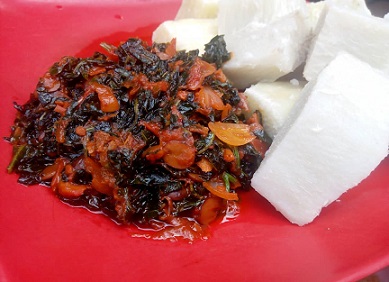 Yam recipe is that healthy and delicious boiled yam and vegetable sauce that can be eating either as breakfast, lunch, or dinner.
However, adding some finely chopped Ugu leaf (fluted pumpkin leaves or spinach) to your dish tends to increase the nutritional value; likewise nourishes the body. Moreover, they are packed load with Vitamins and minerals, rich in antioxidants, high in dietary fiber which aids free bowel movement.
Yam is mostly grown in Africa, while Nigeria is the largest producer of yam as well as the highest exporter. Yams are the same members of the Dioscoreae family as its counterpart sweet potato. They are a good source of energy and it's a starchy vegetable tuber.
Homemade boiled yam and vegetable stew are very easy to cook; It's usually a flavorful and tasty dish to make for the family.
How to Make Yam Recipe – Boiled Yam and Vegetable Sauce
Ingredients
½ Tuber Yam
1 medium-size Mackerel fish (Titus fish) Fried
6-8 pieces fresh tomatoes
4 pieces scotch bonnet pepper (Atarodo)
1 large onion
1 seasoning cube
1/4 teaspoon Onga seasoning
Salt to taste
½ cup of vegetable oil
Instructions
First and foremost, slice the yam, peel the skin and cut into the desired shape and sizes; thereafter, wash and transfer into a cooking pot.
Secondly, add enough water that will be above the sliced yams in the pot, add salt, cover and cook to soften/tender. Then drain water and set aside in a food flask to keep warm.
Thirdly, wash your onion, tomatoes, pepper, and dice. Wash and slice your vegetables and keep aside. Wash the fish sprinkle salt and fry.
In a frying pan, heat up the vegetable oil, stir in your onions, fry for like 10 seconds, and then pour in the tomatoes and pepper. Stir fry consistently until the stew is dry, and the sour taste is eliminated.
Finally, spice with your seasoning cube and Onga seasoning, add the sliced vegetables, and mix properly to combine with the tomato stew. Taste salt and cover to cook for 2 minutes before removing from the heat.
At this point your delicious vegetable sauce and boiled yam is ready.
Serve and enjoy!