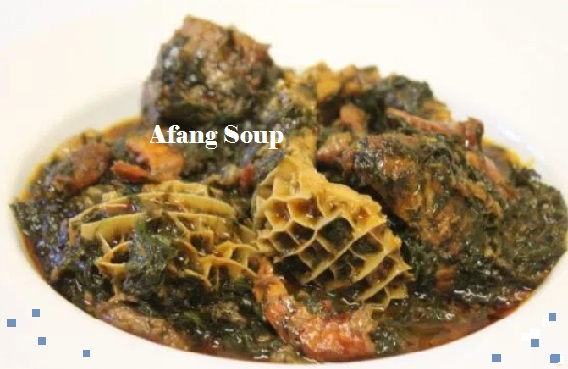 Afang soup recipe is highly nutritious and delicious when properly cooked, Afang leave is best combine with water leaves and spiced with assorted meat, fish, and other soup ingredients for that super taste.
Afang leaf is a medicinal vegetable cooked as soup mainly by the Efiks, Ibibios commonly refers to as Calabar soup, while the leaves are also called Okazi in Igbo used in cooking Okazi soup.
However, Afang delicacy has gain popularity in Nigeria and in other parts of African countries, it is now found in my most Nigerian kitchens, parties, weddings, occasions and events, top restaurants menus also serve afang just like Edikang Ikong vegetable soup.
Meanwhile, Afang is scientifically known as Gnetum africanum, and it also goes by several names like Okazi leaf by the Igbos in Nigeria, Eru by the Cameroonian, while other countries call it Melinjo, Gnemon, Belinjo, Padi oats, Bigo, and Bago, as you can see it's a popular leave.
Homemade afang recipe is not as difficult as you think, so let try out something different for the family this weekend, check out the simple and easy method of cooking Afang delicacy at home.
Step by Step on How to Cook Afang Soup Recipe
Ingredients
4 handfuls ground Afang leaves (Okazi leaves)
2 handfuls sliced water leaves
1 kg assorted meat
1 large stockfish
3 tablespoons crayfish
1 cup of palm oil
1 large dry fish
½ cup periwinkles topped and tailed (optional)
½ cup prawns (optional)
6 pieces fresh bonnet pepper grounded
4 stock cubes
Salt to taste
Method of Cooking Afang Soup
First of all, wash and clean the assorted meat, place in a pot, add salt and stock cubes then allow cooking until when is almost tender, after that, add the stockfish and dry fish cook to soft.
Secondly, pour in the crayfish, grinded pepper, periwinkles, prawn, and cook for another 3 minutes, don't add too much water so the soup won't be watery at the end.
Thirdly, pour in the palm oil, immediately it starts boiling, add in the waterleaf, the water quantity of the soup will increase because of the waterleaf.
Finally, add your stock cubes, then salt to taste, thereafter, pour in the grinded okazi leave stir properly to mix and remove from heat.
Cover and allowing sitting for 3-5 minutes and is ready to serve with either Eba food (Garri), fufu, Semo, Pounded yam, or Amala.
Serve and enjoy your meal!