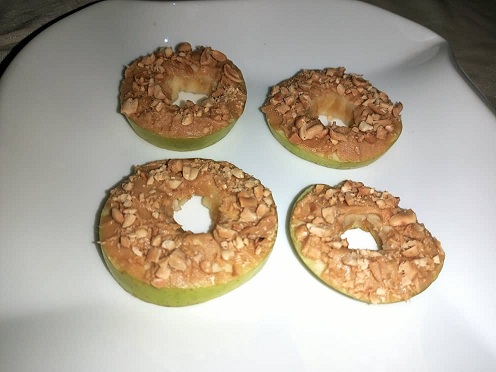 Apple and Peanut Butter Snack – Peanut butter and Apple Snack Ideas
Peanut butter and apple snack idea that will make you want to eat more. They are delicious, incredibly simple, and satisfying snack.
Are you looking for ways to increase your fruits intake? Do you think you could use a little peanut butter and apple Snack inspiration in your diet? If so, we've got just the post for you! In this article, we'll share some great ideas for foods that will help reach your goals.
Whether you're trying to get more calories or lose weight, these snacks are a great way to jumpstart your journey.
What are Apple and Peanut Butter Snack?
Peanut butter and apple snacks are two of the most popular snacks in the world. They're both delicious and easy to eat, which makes them a great snack choice on-the-go.
They are both rich in nutrients. Peanut butter is made of peanuts (groundnuts). Apple is a tart fruit that is typically eaten fresh or dried.
Apple peanut snacks are made from red or green apples that have been seeded, chopped. Green apples are sometimes used to make smoothies and juice, without any sugar added.
Is apple and peanut butter a healthy snack?
Yes, apple and peanut butter can be a healthy snack option. Apples are a good source of fiber, vitamins, and antioxidants, while peanut butter provides healthy fats, protein, and additional fiber. Together, they make for a balanced snack that can keep you feeling satisfied.
Nutritional Value of Peanut Butter
The majority of the fat in peanut butter, which makes up more than 75% of its calories, is monounsaturated fat.
Even though they are officially a legume, peanuts have a nutrient profile that is remarkably similar to that of a nut. Consequently, they are frequently grouped with nuts.
The addition of peanut butter and other nut butters to meals and snacks that are higher in carbohydrates, like apples, is a fantastic way to improve their protein and healthy fat content.
The benefit they have on maintaining and improving heart health makes monounsaturated fats the most well-known of all the fat types.
Carbs: 7 grams
Calories: 188
Fiber: 3 grams
Fat: 16 grams
Protein: 8 grams
Potassium: 7% of the RDI
Vitamin B3 : 22%        "
Magnesium: 13%        "
Vitamin E: 10%           "
Manganese: 29%        "
Phosphorus: 10%        "
Usually, 2 teaspoons of peanut butter constitute one serving (32 grams).
Apple Nutrition Facts
The following nutrients are present in one medium apple (182 grams).
Calories: 95
Carbs: 25 grams
Fiber: 4.4 grams
Protein: 0.4 grams
Fat: 0.3 grams
Vitamin C: 14% of the RDI
Potassium: 6%   "
Vitamin K: 5%    "
Roughly 17% of the RDI for fiber is provided by a single apple. This nutrient has a critical role in fostering healthy immunological and digestive systems.
Apples are also widely known for being a great source of plant components that could help your body fight inflammation and stress.
How to Make Apple Peanut Butter Snacks
To make peanut butter and apple snacks, you will need:
2 Apples (Red or Green apples)
½ cup of peanut butter
2 tablespoons crushed peanuts or granola
Instructions on How to Make Apple Peanut Butter Snacks
Firstly, each apple should have its stem and root ends removed. Each apple should have 3-4 crosswise slices.
Secondly, cut ¾ inch thick. Remove the center of each slice with the help of a tiny paring knife. Alternately, core the apples with an apple corer before slicing.
Finally, spread peanut butter on each apple ring. Top each with ½ teaspoons crushed peanuts or granola, pressing the granola lightly into the peanut butter so it sticks. Serve.
Serve and enjoy!
FAQs on Apple And Peanut Butter Snack
What type of apple is best to pair with peanut butter?
The choice of apple depends on personal preference. Crisp and slightly tart varieties like Granny Smith or Honeycrisp provide a nice contrast to the creamy sweetness of peanut butter. However, any apple variety can be used based on your taste preferences.
Should I choose natural or regular peanut butter?
Both natural and regular peanut butter can be used for this snack. Natural peanut butter is typically made with just peanuts and salt, without added oils or sugars. Regular peanut butter may contain added oils and sugars for enhanced flavor. Choose the option that aligns with your dietary preferences and goals.
Can I prepare apple and peanut butter as a make-ahead snack?
While the apple slices may brown slightly over time, you can prepare this snack ahead of time and keep it in the refrigerator for a few hours. To prevent browning, you can lightly brush the apple slices with lemon juice before adding the peanut butter.
Are there any alternatives to apples for this snack?
Certainly! If you're not a fan of apples or looking for variety, you can try pairing peanut butter with other fruits like banana slices, celery sticks, or carrot sticks. These options provide a different taste and texture but still offer a nutritious and satisfying snack.
What if you can't eat peanuts?
If you're allergic to peanuts, other nut or nut substitute butters can be used in place of peanut butter. Feel free to use almond or cashew butter as a substitute for peanut butter. The lesser amount of additives in natural peanut butters makes them another excellent option.
Is peanut butter and apple good for weight loss?
Apples are a great source of fiber, and peanut butter is a good source of protein. Combining these two foods can help you feel fuller for longer. Apples and peanut butter are a particularly good source of nutrition for people who are trying to lose weight or maintaining a healthy weight.
Is peanut butter with apple a healthy snack?
Apples and peanuts both contain a veriety of nutrients that benefit your health in a number of ways, including lowering inflammation, enhancing heart health, and regulating blood sugar levels.
Is apple and peanut butter OK before bed?
A healthy way to feel full and satisfied is to eat a small piece of fruit like a banana or an apple that has been coated with almond or peanut butter . The fruit's potassium and magnesium, along with the nut butter's protein make the ideal combination for a restful night's sleep.
How much peanut butter can I eat a day?
People should limit their intake to 1-2 tablespoons per day. In terms of size, 1 tablespoon is roughly the size of your thumb (16 grams), whereas 2 tablespoons (32 grams) are comparable to a golf ball. Choose peanut butter with simple ingredients like salt and groundnuts no extra sugar added.
Conclusion
According to study, eating more fresh fruit was linked to a significantly lower chance of getting diabetes.
Apples are first of all naturally delicious and abundant in fiber. Apples are a good source of both soluble and insoluble fiber, polyphenols, and vitamin C, according to the Harvard School of Public Health. For more benefits relating to heart disease, diabetes, and inflammation, read the Harvard article.
For other popular snacks, try my Coated Peanuts Snacks or Fried Pickles Snacks. They're both my favorites around here!