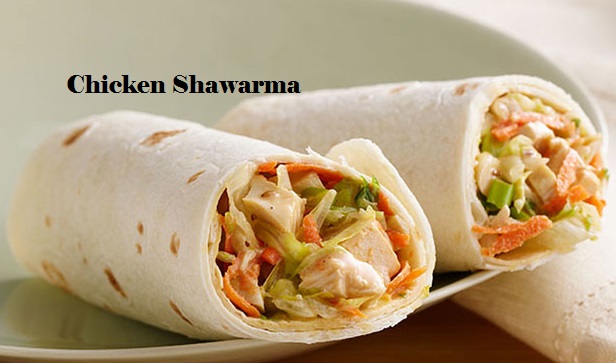 I love shawarma especially Nigerian chicken shawarma I know you love it too; this Arab street food of meat and vegetables wrapped in pita bread has gain popularity all over the world.
Chicken shawarma food is a yummy and delicious snack that seems to be more popular than burger when it comes to snacks, a healthy and balanced diet on the go meal loaded with dietary fiber, protein, vitamins, and minerals. It also contains certain amount of fats and carbohydrate which makes it a balance meal.
Moreover, homemade tasty shawarma recipe can also be prepared in your kitchen comfortably without any hitches and be enjoyed by the whole family; the kids are going to love that.
How to Make Nigerian Chicken Shawarma Recipe
Ingredients
Shawarma Vegetables
1 small-size cabbage
4 medium-size carrots
1 Green bell pepper
1 medium-size tomato
Lettuce finely sliced (optional)
For Chicken Marinade
1 small-size onion (minced)
1 teaspoon thyme
½ teaspoon curry
1 teaspoon garlic powder
½ teaspoon black pepper
2 stock cubes
2 tablespoons of vegetable oil
Chili pepper (optional)
Shawarma Sauce
Mayonnaise or salad cream
Method of preparation
First and foremost, wash and cut your chicken into thin strips, place in a deep bowl and add in your curry, thyme, sliced onion, garlic powder, black pepper, and stock cubes, then mix thoroughly after that, keep in the fridge to marinate for about 2 hours or more. It tastes better when properly soaked with the ingredients.
Secondly, wash and slice all vegetables into a thin strip.
Thirdly, in a frying pan, heat the oil and pour in the marinated chicken and fry, continue to stir fry until chicken turns brown as it looks so appetizing, then remove from fire into a plate.
Next step is to mix your sauce, in a deep cup mix ketchup and mayonnaise/salad cream together read for use.
Finally, place your pita bread on a pastry wooden board, thereafter, spread the ketchup/mayonnaise mixture on the shawarma pita bread, fill it up with vegetables and the fried chicken sauce then sprinkle little chili pepper is you like.
Lastly, gently wrap so that the rolls will overlap itself when wrapping, then place in the oven to hit for about 5 minutes or use a frying pan to hit it up when there is no oven.
Serve and enjoy with a cold glass of juice/drink.