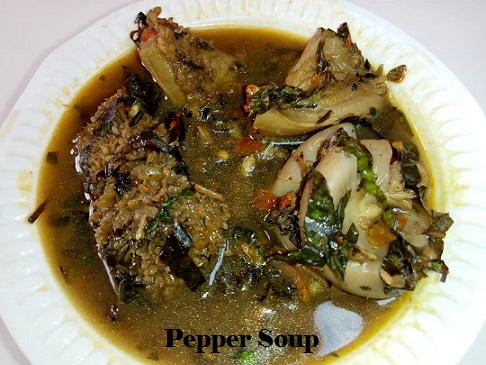 Pepper soup is a mouthwatering spicy delicacy that is usually eaten either during cold weather or in the evening, during a moment of leisure and relaxation.
The name 'Pepper Soup' does not actually mean the dish is peppery, although most people still prefer it to be a bit more pepperish.
Meanwhile, Nigerian pepper soup recipe has super relieving powers when given to a person who is down with flu; it not only soothes sore throats but, also keep the body warm.
Moreover, assorted meat or pepper soup with intestine are popularly being served in restaurants, bars, and during parties or gatherings, it can be certainly referred to as an "enjoyment" food.
Basically, this article is just to make you understand that you can easily prepare a delicious homemade pepper soup with either catfish, goat meat, intestine, or beef.
How to make pepper soup with scent leaf
Ingredients
1 kg assorted meat (cow or Goat meat)
3 pieces of calabash nutmeg (Ehuru seed or Ariwo)
½ teaspoon ground Uziza seed 
2 tablespoons crayfish (optional)
½ cup fresh scent leaves (finely sliced)
2 seasoning cubes
1 medium-size onion
Chili pepper to taste
Salt to taste
Method of preparation
First of all, cut the variety meats (offal) into small sizes, after that, wash thoroughly and set aside.
Is time to roast the calabash nutmeg (ehuru), thereafter, grind with uziza seed this spice stirs up the sweet aroma you always perceived when cooking this pepper spice soup.
Next is to wash the scent leaf and slice, then keep aside for later use.
In a pot pour in the already washed assorted meat, dice your onion and add with seasoning cubes and salt to taste, place on fire and steam.
Steaming the meat enables the spice to penetrate into the meat as it gives it more taste, after that, add enough water and stir in the crayfish, chili pepper, ground uziza seed, and ehuru mixture, so that the pepper soup ingredients will mix with the meat as you cook to doneness.
Finally, pour in the sliced scent leaves stir and remove from heat, cover and allow sitting for like 2 minutes before serving because is best served hot.
Serve and enjoy!
It can be served with the following
Agidi (Eko)
Boiled yam
Boiled plantain