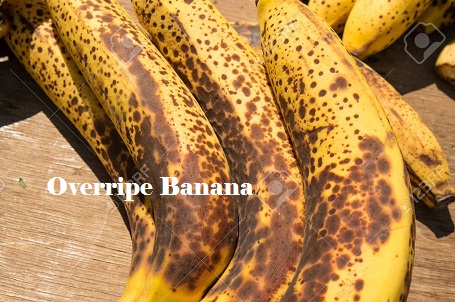 Overripe bananas can be used in so many unimaginable ways, so don't throw them away when next your bananas get damaged or overripe, it can easily be used for things like baking, frying, smoothies and several other things.
In Nigeria, over ripe banana are quickly thrown into the dust bin, henceforth, when you have so many leftover bananas just don't make the mistake of throwing then away rather consider making a nice and delicious recipe that will be enjoyed in the house using those same old bananas.
Overripe bananas are packloads of vitamin A, B, and C, very rich in potassium too. When your bananas get brown with dark patches at the back, mushy and soft so, what happens next?
Certainly, some people will just throw straight into the dustbin, but from now upwards, place on a Ziploc bag and freeze until when you are fully ready to cook them.
I love banana bread loaves, so each time I have mushy, overripe or normal ripe bananas I normally use them in baking either banana bread loaf or banana cupcakes for the family, the children enjoy it more.
However, it can be eaten for breakfast or as healthy snacks at home or for the kids after school snacks.
It can also be used as a good substitute for egg, for instant one overripe banana for an egg in your daily recipe, what a perfect vegan recipe no egg healthy diet.
Uses of overripe bananas recipes in Nigeria
It can be used to prepare the following recipes and more depending on what y have in mind to cook, the most important thing is to make good food everyone will enjoy.
Healthy banana bread
Banana oatmeal smoothie
popsicles
Banana muffins
pancakes
Enjoy your leftover banana meals!
I will love to hear what recipe you prepared with those leftover bananas.