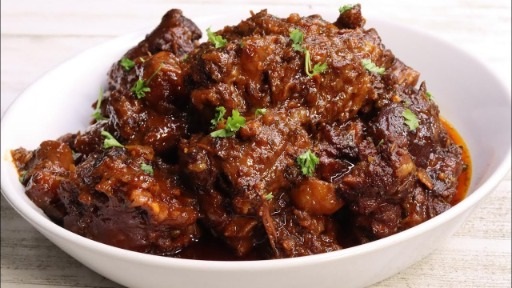 Jamaican Oxtails – How to Make Oxtail Stew | Oxtail Recipe
Oxtail stew/soup is perhaps the most popular of all the African American soups. This hearty and rich soup will keep you warm all day.
In its most basic form, oxtail stew is made with beef tail and stock with some onion, garlic, and herbs like thyme. However, there are many variations you can make depending on your tastes. This fragrant oxtail soup uses a lot of spices to bring out its full potential. It's a little spicy but not enough to be considered an Indian-inspired dish. But if you prefer something less intense, use fewer red pepper flakes or substitute them with cayenne pepper powder instead.
This recipe will give you everything you need to make your own perfect bowl of oxtail pepper soup, crowded with tender pieces of meat.
What Is Oxtail Meat?
Oxtail is the name given to the cattle tail in cuisine. Previously, the word's only meaning was an ox's tail. Oxtail is an interesting piece of meat as it comes from the tail of a cattle or ox, just its tail end, as one might expect. It's got great flavor and makes for an amazing bowl of dish.
Basically, Ox tail is the tail of a beef cattle. The beef is high in collagen, which results in a succulent and juicy flavor. Because the cut of meat is high in gelatin, so gently cooking a tougher cut of meat in liquid until it becomes tender. The gelatine, combined with the bones, results in an extremely flavorful broth and stock.
Jamaican Oxtails Recipe
Oxtail recipe is a real classic. It's been part of Jamaican culinary heritage for generations, and there are few better ways to warm up on a cold winter's day than with a steaming bowl of oxtail soup.
Jamaican oxtail a straightforward recipe with strong tastes. Oxtails are simmered and stewed with herbs, scotch bonnet pepper, root vegetables, and spices to create this dish's hearty, nutritious food.
It produces perfectly cooked oxtails that are so juicy and soft they fall apart as it melt away in your mouth. With a rich, bold flavor, just one bite will prove that all the effort put into preparing this dish was worthwhile.
What kind of meat are ox tails?
Originally derived from oxen, oxtail is now plainly the tail of beef cattle or veal of both gender groups.
Is ox tail really cow tail?
Ox tail is the tail of a beef cattle; A tasty treat prepared from the cow's tail is called oxtail. The tail is divided into large chunks or pieces.
Oxtail Recipes
The Jamaican, Asian, African, and Spanish cuisines, as well as Italian, Russian, and British, all use oxtail. It will always be braised and cooked slowly before being served as a soup, stew, or other dishes.
This stock serves as the foundation for hearty, stews or oxtail soup, which is made with the meat, vegetables, herbs, and spices.
What do Jamaicans eat with oxtail?
The red beans used to make rice and beans are what Jamaicans are famous for. Jamaicans eat rice, potatoes, or beans and rice with oxtail;  and that is typically served with a lot of gravy and oxtail. Additionally, this is where you would typically find steamed cabbage and fried plantains.
Do you have to brown oxtails before cooking?
Do oxtails need to be browned before cooking? Not at all, no. I don't even brown them before putting them in the slow cooker pan. They are properly cooked, incredibly soft, and tasty when finished.
What are the benefits of eating oxtail?
Collagen, an essential protein for the growth and repair of our bodies, is abundant in oxtail. An excellent source of energy for a Ketogenic, Carnivore Diet, or Paleo; oxtail, which is heavy in fat if you're following a high-fat, low-carb or no-carb diet, oxtail is the perfect choice because it contains more than 70% fat. To dissolve the connective tissue, oxtail needs to be boiled slowly.
How to Cook Jamaican Oxtails – How to Make Oxtail Stew
Ingredients
2 kgs of Oxtail
1 tsp of Black Pepper
Half Onion (diced)
4 diced fresh Tomatoes
3 tablespoons Tomato paste.
1 cup Red wine (optional)
3 minced Garlic Cloves
1 tsp grated Ginger
1 tsp Scotch Bonnet (crushed)
½ tsp dried Rosemary
½ tsp of Salt
4 tbsp of Vegetable Oil
1 tsp of Curry powder
2 Seasoning cubes
1 ½ tsp of Browning
¼ cup chopped Spring Onions
1 cup Red & Green Bell peppers (minced)
½ tsp of dried Rosemary
1 tsp thyme
2 Bay leaves
1 chopped celery sticks
1 tbsp of Allspice (Jamaica pepper)
1 tsp of Paprika powder
2 medium-sized diced Carrots (optional)
4 pcs potatoes (optional)
Instruction on How to Marinate Oxtails
First and foremost, trim off the fats then wash and marinate. However, some individuals cook there oxtail like that and thereafter scoop out the excess fat after cooking; Washed the oxtails with vinegar or limewater before marinating them.
Secondly, in a large bowl pour in the oxtails, add 2 tbsp of beef seasoning cubes, 1 tsp of paprika powder, 4 minced garlic cloves, and a tsp of grated ginger.
Next is to add 1 tbsp of all-spice, 1 tsp of browning, 1/2 tsp of salt, 1/4 cup of spring onions, 1 tsp of thyme, and 1 tsp of black pepper powder and finally add 1 cup of minced red and green bell peppers.
Cover with plastic wrap and marinate for at least 2 hours. Preferably marinade the oxtails overnight.
Braising Your Marinated Oxtails
The next day or after 2 hours depending, use a tong or hand to pick and shake off excess seasoning from the oxtail and transfer to another bowl.
Bring to heat 2 tbsps of vegetable oil add the marinated oxtails in it. Braise (like frying) them for 10 minutes on each side. You can do this in batches.
Lastly, transfer to a sieve lined with paper towel or a dish and then use the leftover oil for cooking your stew.
Instruction on How to Make Oxtail Stew
Once you are done with braising the oxtails, on the same pot and stir in the diced onions saute for like 3 minutes or till the onions are fragrant, then stir in the tomato paste, crushed scotch bonnet, and the diced fresh tomatoes.
Cook until the tomato is soft and almost dry, then add 4 cups of chicken stock, curry powder, dried rosemary, 1/2 tsp of browning, beef seasoning cube, and celery for flavor.
Finally, return the braised oxtails into the stew, add 2 bay leaves; cover and allow to cook for 2 hours while stirring intermittently.
After cooking for about 2 hours Add diced carrots and potatoes and stir to combine; then cook for 20 minutes until the potatoes are soft optional though.
Braised oxtail stew has more flavor than one made without braising the oxtail.
At this point off the heat, your easy homemade oxtail stew is ready.
Served and enjoy with rice or pasta.