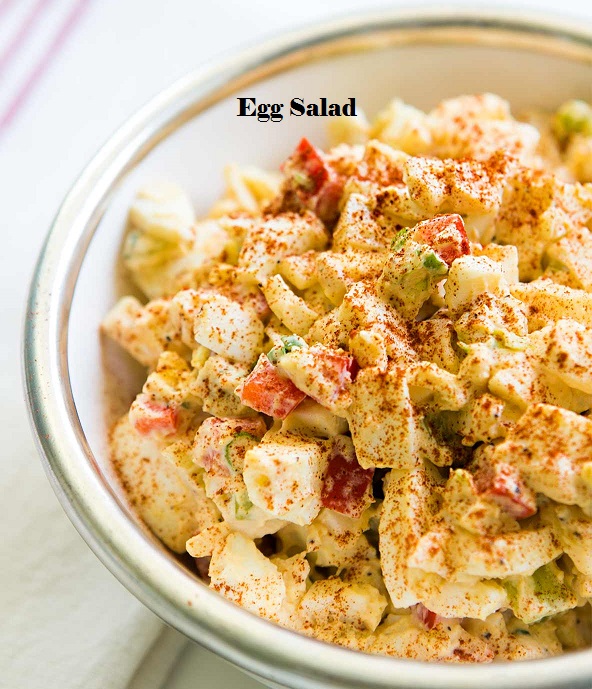 Hard-boiled egg salad is one of my favorite egg spread with toast bread, a perfect mixture of hard-boiled eggs with mayo, green onion, red bell pepper and a pinch of grain mustard is all you need to make a crunchy egg salad.
Making egg salad is very easy and a good choice of breakfast or for a picnic, a classic egg salad sandwich is the answer to a quick fix meal, on the other hand, egg salad wrap is just right for lunch.
Moreover, in Nigeria, egg salad recipe is not as common as vegetable salad usually served in parties, weddings, occasions and in various homes. Certainly, people are not too familiar with this recipe that is why I chose to share this so that you will learn and include it in your menu.
How Long does Egg Salad Last?
Hard-boiled egg salad will last for 3-5 days in the fridge and will not get watery, once there is any leftover of deviled egg salad transfer into an airtight container and refrigerate.
Meanwhile, you can always prepare a healthy egg salad and refrigerate ahead of time or for the next day according to your food menu.
What can I use in place of mayonnaise?
Mayonnaise can be replaced with Greek yogurt; egg salad with Greek yogurt is another low calories food perfect for those on weight loss diet plan that usually count calories.
Substituting greek yogurt with mayonnaise still gives you that fluffy creamy texture common with salad dressing not losing its delicious taste.
How to Cook Hard Boiled Egg Salad
Ingredients
8 Large eggs (hard-boiled eggs)
1 red bell pepper chopped
½ cup of mayonnaise (or Greek yogurt)
1 tablespoon ground mustard
¼ cup green onion finely chopped
Pinch of black pepper
Salt to taste
Directions
Start with the eggs; roughly chop the hard-boiled eggs, after that, in a deep bowl mash the yolk using a fork so that it will break up completely.
Secondly, add the red bell pepper, and green onion in the chopped eggs
Thirdly, in a smaller bowl mix the mayonnaise (Greek yogurt), black pepper, and salt stir the consistence to mix properly.
Finally, gently stir in the mixture into the sliced eggs, thereafter sprinkle the grain mustard, cover and refrigerate for about 30-45 minutes
Serve cold and enjoy with