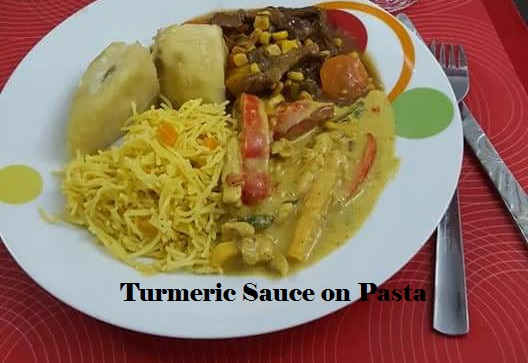 Turmeric is that unique spice used in adding color, flavor, and taste to food like curry turmeric sauce served with golden yellow color pasta.
Is a simple and easy recipe to make at home, eye catchy, tasty and delicious. Try out this homemade Nigerian turmeric sauce with pasta while I expect feedback from you.
Read Also: https://besthomediet.com/slow-cooker-beef-stew-recipe/
The golden spice comes out beautiful using fresh roots for smoothies, tea, curry chicken, salad, sauce, stew, in soup, pasta, and rice dishes,
Moreover, pasta is a staple food in Nigeria, though may be considered healthy diet when cooked with wheat pasta, since is low in carbs and calories, and at the same time contains high fiber and other essential nutrients.
What is Turmeric?
Turmeric is basically what gives curry powder its yellow color, is a flowering plant, Curcuma longa of the Ginger family and the root is used in cooking delicious meals.
However, curcumin is Indian traditional spice, is also being used for Ayurvedic medicine, a traditional Indian treatment for various health conditions such as inflammation and chronic pains.
Health benefit of Turmeric sauce
Curcuminoids, on the other hand, is an active ingredient in turmeric that has lots of medicinal properties used in the production of turmeric tablets, capsules, seasoning, food coloring spices, cosmetics, and health supplement.
The queen of spices Curcuma has high potassium content, vitamin K, vitamin C, E, calcium, iron, zinc, magnesium, niacin and low in sodium.
Curcumin helps in destroying cancer cells, and equally prevent more growth of cancer cells in the body, is also a good immune booster.
How to cook turmeric sauce with pasta
Ingredient
3 pieces of chicken breast or (½ kg beef)
3 cubes Maggi seasoning
1 teaspoon thyme
1 tablespoon turmeric powder  
½ teaspoon ginger
1 small onion
1 red bell pepper
2 medium sizes carrots
1 green paprika pepper
½ cup sweet corn
½ cup sliced cabbage
3 tablespoons all-purpose flour
1 sweet potato (boiled)
½ pack pasta
1 tablespoon vegetable oil
Salt to taste
Method of preparation
First and foremost, wash your chicken or beef place in a pot; add spices (thyme, diced onions, 2 cubes Maggi, ginger, and salt) then cook to soften.
Secondly, wash all vegetables and dice, after that, keep separately ready for use.
Thirdly, in the already cooked chicken pour in all sliced vegetables (carrots, red bell pepper, green pepper, onions, cabbage, sweet corn, and turmeric for spices and its golden yellow color.
Fourthly, cook for 3 minutes, and then dissolve the flour in small bowl with 5 spoons of water, and pour into the boiling sauce as thickener, stir and allow cooking for another 2 minutes before removing from fire.
Finally, break the pasta into a pot, then add 1 teaspoon vegetable oil and parboil for 5 minutes, remove from heat drain water, rinse and return back to pot add ½ teaspoon turmeric and pinch of salt, water and cook for another 7 minutes ensure is well cooked before removing from heat.
Serve and enjoy your spicy and delicious delicacy.