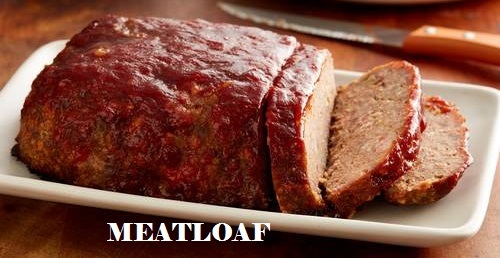 The Mexican meatloaf recipe is just another huge chunk of ground beef baked in the form of bread loaf with lots of spice and meatloaf glaze with ketchup.
Mexican meatloaf recipe with salsa is another traditional meatloaf cuisine commonly prepared in most Mexican restaurants and is usually very delicious.
In Nigerian meatloaf is not too popular when compared with suya meat we all know, however, delicious meatloaf recipe should be inculcated in our food menu.
Homemade spicy meatloaf recipe is very easy to prepare so, learn how to make healthy meatloaf recipe that will put smiles on the face of everyone at home.  
Certainly, old fashioned meatloaf recipe is appetizing merely looking at it, the glazed ketchup or tomato sauce completely defined the meatloaf.
Also Read: https://besthomediet.com/akara-nigerian-food-how-to-make-akara/
Can You Freeze Meatloaf?
Meatloaf can be freeze after preparing until when you are ready to bake, whenever you're sure it time to cook remove from the freezer allow to defrost before baking or go ahead and bake the frozen meatloaf it still tastes great after baking.
Moreover, in other to freeze your meatloaf, endeavor to cover firmly with plastic wrap (Ziploc bag) and with foil paper and freeze; well-wrapped meatloaf could last for at least 2 months or more.
How to make Mexican meatloaf recipe in Nigeria
Ingredients
1kg ground beef
1 medium-size onion slice
2 eggs
1 teaspoon garlic powder
½ cup Progresso bread crumbs
1 sachet taco seasoning or Onga classic
¼ ground black pepper
¾ cup cheddar cheese shredded (optional)
Pinch of salt
Pinch of nutmeg powder (optional)
½ cup of ketchup
Instructions
First and foremost, follow the simple instruction on how to make meatloaf and subsequently bake the best meatloaf ever; hence preheat over at 300F thereafter, spray your loaf pan with oil.
Secondly, get a large bowl, add the ground beef, onions, garlic powder, bread crumbs, black pepper, taco seasoning, nutmeg, a pinch of salt to taste, and eggs, with a clean hand, adequately combine the mixture this will enable all ingredients mixed properly.
Thirdly, move the meatloaf to your loaf pan, gently place in the baking sheet as you transfer to the oven, then bake for 40 minutes
Finally, remove from oven and glaze meatloaf with ketchup or tomato sauce and return to the oven while you cook meatloaf for another 20 minutes until well cooked.
In conclusion, remove from oven; allow cooling after that transfer into your serving platter ready to serve.
Serve and enjoy allrecipes meatloaf ever