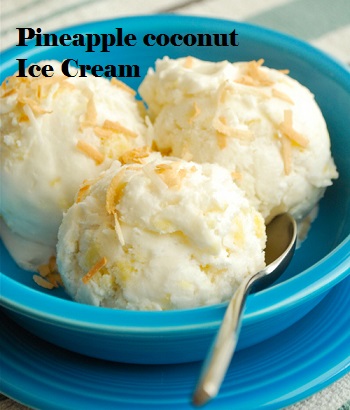 This pineapple coconut ice cream is a no egg and no-churn ice cream that is delicious; this recipe only requires 3 basic ingredients to make, a perfect and savory gelato garnished with coconut flaked.
Are you a lover of ice cream? You will want to make this pineapple coconut ice cream recipe as soon as possible and the kids will love it.
Homemade pineapple coconut milk ice cream is very easy to make since it doesn't require cooking or using ice cream maker.
Its summer so, you need to get refreshed and cool off with this simple homemade no-dairy smooth gelato ice cream.
How to make Pineapple Coconut Ice Cream
Ingredients
1 cup of coconut milk
2 medium bananas
2 cups fresh pineapples or frozen pineapple
½ cup coconut flakes (desiccated coconut)
Method of preparation
First of all, wash and peel your fresh pineapple, after that, chop into chunks/ cubes, cut the bananas and freeze until is solid or buy a frozen pineapple.
Secondly, freeze the coconut milk too, during this process the cream will separate from water; both the cream and water will be used to make the ice cream.
Thirdly, in a blender, pour in the frozen pineapple, bananas, and coconut milk and blend to smooth as it forms fluffy and creamy ice cream known as coconut milk cream ice.
Finally, pour out the ice cream mixture into a baking pan or a container cover with an airtight bag and freeze for another 2-4 hours before serving sprinkle the coconut flakes on top of the ice cream.
Serve and enjoy with garnished coconut flakes and spring rolls!
Other Ice Cream Recipes