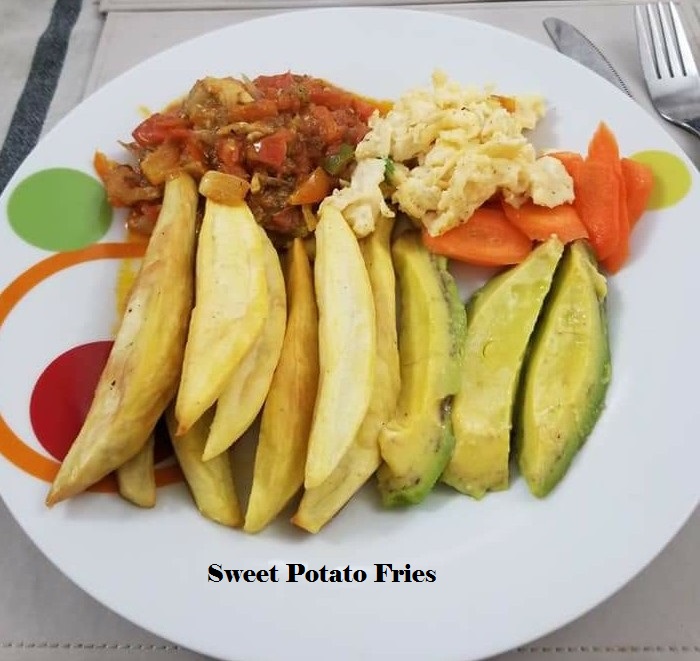 Nigerian sweet potato fries is a quick healthy breakfast meal garnished with tomato sauce, avocado, and egg thereby making it nutrient pack load food for the day.
Fried sweet potato is one of the healthiest yummy foods you can eat any time of the day, I love sweet potato because it always turns out delicious in whatever recipe you cook.
Basically, there are different ways to prepare sweet potatoes in Nigeria, for instance, Perfect Baked Potato, Sweet Potato Smoothie, fried sweet potato wedges, and how to make Nigerian style fish and potato chips.
Meanwhile, kids are the highest consumer of sweet potato fries, they love picking it one after the other even while they play around their food.
Surprisingly, sweet potatoes are a perfect meal for those on weight loss diet, the high fiber content in this root makes it possible, in the same vein, it has low calories content which helps you lose weight.
Moreover, for those on weight loss plan eating fries food ought to be based on portion control with lots of vegetables to spice it up, it is also rich in vitamin C and A.
Similarly, sweet potato fries can also be called finger food, fried sweet potato fries, sweet potato French fries, and sweet potato fries dip.
How to make sweet potato fries
Ingredients
2 medium-size sweet potatoes
A dash of salt (optional)
Vegetable oil for frying
Read Also:https://besthomediet.com/shakshuka-nigerian-tomato-and-poached-egg-sauce/
Recipe for sauce
2 medium-size tomatoes
1 green pepper
1 small onion
Spices (curry powder)
1 cube seasoning
4 tablespoons vegetable oil
Salt to taste
Ingredients for Egg
2 eggs
2 tablespoon vegetable oil
Pinch of salt
Avocado for dressing
1 medium-size avocado
1 medium carrot
Method of preparation
First of all, wash, peel and slice your sweet potatoes, after that, place your frying pan on the heat, pour in the oil for frying and heat.
Secondly, sprinkle your salt, for me personally I don't use salt though is optional, mix and fry both sides to slight golden yellow color.
Thirdly, remove from heat to sieve allow draining, thereafter, set aside for use.
Fourthly, wash all vegetables (tomatoes, onion, and green pepper) and slice, in a small pot, pour in the 4 spoon of oil heat and stir in the sliced tomatoes and onions and fry for 3 minutes, add spice and seasoning stir fry, then lastly stir in the green pepper mix well and remove from heat.
Fifthly, break the eggs into a small bowl add a pinch of salt, and then whisk before frying, place a frying pan on the heat, pour in the 2 spoons of oil heat and fry.
Finally, split the avocado into 4 equal places remove the skin and place on a flat plate ready for use, in addition, peel the carrot skin and slice ready
Serve your sweet potato fries, avocado, carrot, egg, and sauce in a flat breakable plate.
Enjoy your tasty, delicious food.