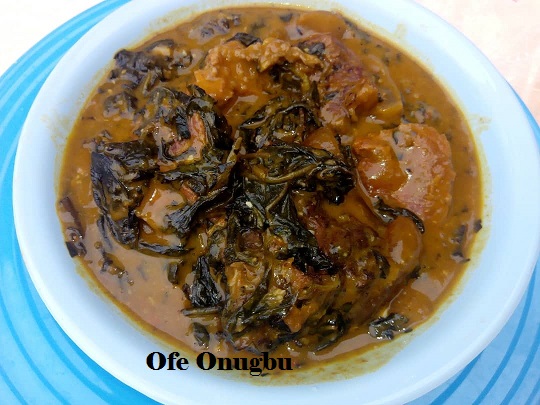 African bitter leaf is a healthy leaf popularly used to prepare bitter leaf soup, a special delicacy usually prepared in the eastern part of Nigeria by the Igbos, the traditional names for bitter leaf soup includes 'ofe onugbu' in  Igbo, Miyan Shuwaka in Hausa, and Efo Elewuro in Yoruba.
There is no occasion, events, or gathering in Anambra state without Ofe Onugbu, which is a favorite soup for indigenes in that region and also very delicious.
Read Also: lose-weight- with -aju-mbaise-flat-tummy-tea
The name African bitter leaf soup might be misleading because the soup itself is not bitter when properly washed and cooked though it is made from bitter leaves.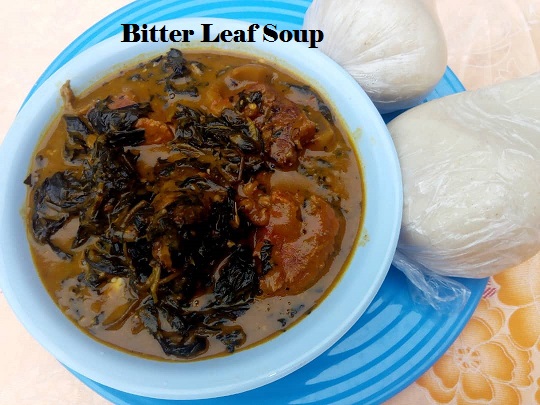 Bitter leaf (washed bitter leaf); in as much as washed bitter leaf is a vegetable and can be used with other combination like bitter leaf and Egusi or bitter leaf in Ogbono to make soups.
The real bitter leaf soup which is ofe onugbu is purely the bitter leaf with other condiments and no other leaf is added to it.
Ofe onugbu Anambra cannot be cooked without cocoyam and Ogiri Igbo to spice up the taste.
Different Methods of Cooking Bitter Leaf Soup
There are different ways in which you can also include bitter leaf in soups such as:-
How to cook bitter leaf soup with Egusi, in this case egusi is the main ingredient in this soup.
Bitter leaf soup with waterleaf, this is a mixture of both leaves to make a very delicious soup too.
How to cook bitter leaf soup with palm fruit, this method replaces palm oil in the soup, since the palm fruit is washed to extract juice consistency and oil used in making the soup.
Cooking dried bitter leaf is simple only rehydrate the bitter leaf by parboiling it first before it is being used to make soup.
How to cook Ofe Onugbu (African bitter leaf soup Recipe)
Ingredients
2 handful-Bitter leaf squeezed and washed 
10-12 pieces Cocoyam
1 kg Assorted Beef
1 medium-size stockfish
2 medium-size dry fish
½ cup crayfish
2 Ogiri Igbo Seasoning
Dry pepper or fresh bonnets scotch pepper
Palm oil
Maggi cubes
Salt to taste
Things to do before cooking Bitterleaf soup
First of all, squeeze and wash your fresh bitter leaf to remove all bitter taste, though it takes time to squeeze, but ensure it is properly wash without any trace of bitter taste left on the leaves.
In case you bought already washed bitter leaf from the market, there is the need to parboil for about 10 minutes and rewash the bitter leaves because they don't wash off the bitterness completely.
Secondly, trim the tips of the cocoyam, wash and cook until soft, remove from heat, sieve the water, remove the skin and pound using mortar and pestle until a paste is form.
In place of pounding, you can blend using a blender or dry grounded cocoyam flour can also be used in making this soup.
Cooking Instructions
Wash your meat place in a pot, add salt and Maggi into the pot and stream for like 3 minutes, this process allows the ingredients penetrate into the meat while the meat brings out water on its own.
Add enough water and continue boiling the meat for another 10 minutes, wash the stock fish and add into the pot then bring to boil. After that, wash the dry fish and add into the pot, rinse the bitter leaf and put in the pot, as well as the cocoyam paste, crayfish, pepper, ogiri, and palm oil.
Cover the pot and cook until the paste is completely dissolved and the palm oil is well cooked giving the soup that bright color of onugbu soup and thick at the same time. If it is too thick add water to blend.
Finally, add salt to taste stir and remove from heat allow sitting for some minutes before serving, the original ofe onugbu is ready what a delicious food.
Serve and enjoy with Semolina, Garri (Eba), Fufu (Akpu), Wheat, and Pounded Yam.