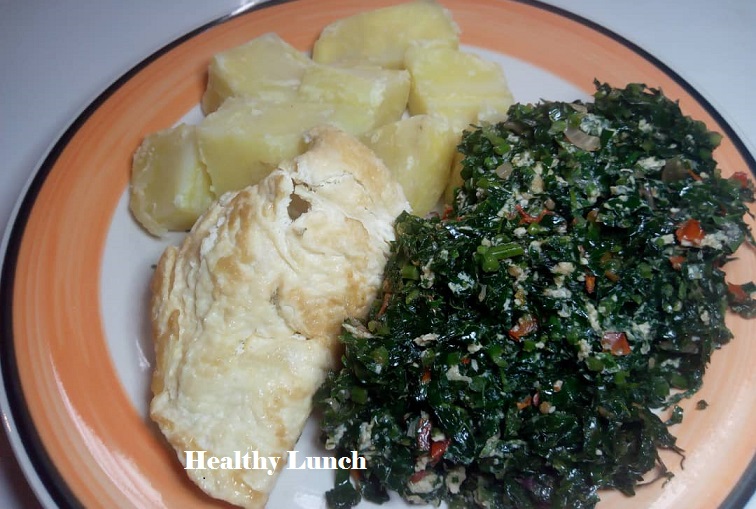 Boiled sweet potatoes recipe is a perfect and healthy lunch, packed with vitamins, minerals, fiber, and antioxidant required for optimal body function.
Certainly, this starchy tuber root vegetable is rich in potassium, sweet potato contains low calories which is an ideal food for weight loss plan and can be eating in place of yam, having it for lunch is such a good idea.
Moreover, in one medium-size sweet potato, there is above 400 percent daily requirement of vitamin A, which is just right for improved eye vision.
In Nigerian most times, we are always in a hast to fix quick lunch, quick breakfast, and the likes, endeavor to go for healthy lunch, that is easy to cook, there are other lunch ideas such as, healthy lunch recipes for work, healthy lunch ideas for school, healthy packed lunch ideas, healthy lunch ideas for weight loss, and easy healthy lunch recipes.
Read Also; https://besthomediet.com/nigerian-sweet-potato-fries-with-tomato-sauce/
How to cook Healthy Lunch
Our lunch for today is boiled sweet potatoes and vegetables with Egg, what a sweet delicacy and it's equally appetizing.    
Ingredients
2 medium-sized sweet potatoes
4 cups finely chopped fluted pumpkin leaf (Ugu leaf)
6 tablespoons vegetable oil
3 medium-sized fresh tomatoes
4 scotch bonnet pepper (atarodo)
1 medium onion
1 cube seasoning
2 eggs
Salt to taste
Instructions
First of all, wash your sweet potatoes in running water, after that, peel the skin and chop into cubes, rinse the chopped sweet potatoes in water, then place in the pot ready to cook.
Secondly, wash the fluted pumpkin leaves in running water, be rinse repeatedly because of sand, ensure is properly clean thereafter, finely slice and set aside ready for use.
Thirdly, wash your tomatoes, pepper, and onions and finely slice all in a plate when done keep aside.
Is time to cook your sweet potatoes, place on the stove-top or gas cooker pour 2 cups of water into the pot, cover and allow cooking for about 7 minutes
It usually cooks fast compared to yam, or use a knife to pears checking if well cooked, as soon as is ready drain the water return it back to the pot.
Get a clean frying pan, pour 4 tablespoons of oil and heat, stir in onions fry for 1 minute before adding tomatoes and pepper, stir fry for about 4 minutes add seasoning cube and salt to taste.
Stir in the finely chopped ugu leaves, batch by batch ( as you turn the tomato stew pour in the first batch immediately it comes in contact with heat the quantity starts reducing, then pour in the last batch stir and cover)
Cook for 1 minute making it half done is the best while the heat completes the remaining cooking on the ground.
Finally, in a frying pan or pot, pour in the remaining 2 tablespoons of oil, break the eggs into a deep bowl sprinkle your salt and whisked, then fry both sides.
Serve your tasty and delicious lunch and enjoy.